Taifa Goff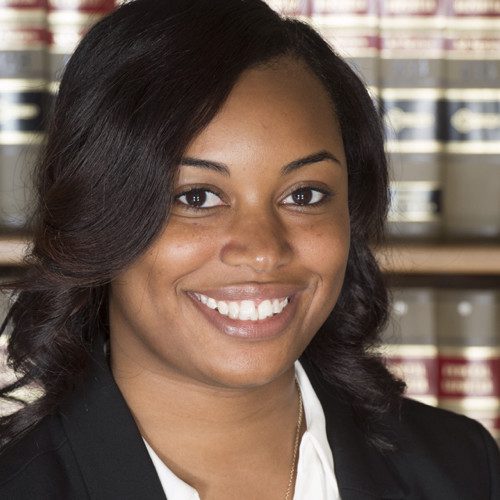 Taifa Goff is a highly skilled and dedicated family law attorney, currently serving as the Managing Attorney at Terri Herron Law. With a deep passion for helping individuals navigate through complex family legal matters, she brings a wealth of experience and a compassionate approach to her practice.
Education
Taifa Goff pursued her legal education at the prestigious law, Loyola University New Orleans College of Law, earning her Juris Doctor (J.D.) degree. She consistently demonstrated exceptional academic performance and a strong commitment to family law during her studies.
Professional Experience
With several years of experience in family law, Taifa Goff has become a trusted advocate for her clients. Her practice covers a wide range of family law matters, including divorce, child custody and support, spousal support, property division, and domestic violence issues.
Throughout her career, Taifa has successfully represented numerous clients in both contested and uncontested divorce cases. She possesses a deep understanding of the emotional and financial complexities often associated with divorce, and she strives to achieve favorable outcomes for her clients while minimizing conflict and stress.
In addition to her expertise in divorce proceedings, Taifa Goff is well-versed in matters pertaining to child custody and support. She recognizes the significance of these issues in the lives of families, and she works diligently to protect the best interests of children while advocating for her clients' rights.
Furthermore, Taifa has extensive experience in handling spousal support and property division cases, ensuring that her clients receive fair and equitable treatment during the process. She is a skilled negotiator and litigator, employing a strategic approach tailored to the unique circumstances of each case.
Professional Affiliations and Achievements
Taifa Goff is an active member of various professional organizations within the legal community. She regularly participates in continuing legal education programs to stay up to date with the latest developments in family law.
In recognition of her outstanding work and commitment to her clients, Taifa Goff has received numerous accolades and honors throughout her career. Her reputation for excellence and integrity has earned her the respect of her colleagues and the trust of her clients.
Conclusion
With her extensive experience, unwavering dedication, and compassionate approach, Taifa Goff is a formidable family law attorney. As the Managing Attorney at Terri Herron Law, she strives to provide comprehensive and effective legal solutions to individuals facing challenging family law matters. Whether through negotiation or litigation, Taifa is committed to achieving the best possible outcomes for her clients while prioritizing their well-being and protecting their rights.